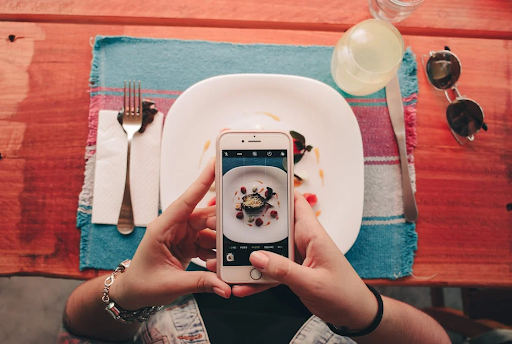 Over the past few years, technology advanced several notches, especially for small businesses. From restaurant advertising to social media, almost every tech advancement is helpful for marketing. Technology offers restaurant brands many ways to get more people to enter their doors.
Restaurants want to deliver flawless, convenient, and enjoyable experiences. Advancements in marketing allow these brands to maximize how they tell their stories. Here's how some popular tech advancements move restaurant marketing forward to the future.
1. Branded Mobile Apps
The days of the restaurant website are long gone. While they are still helpful, people use mobile apps more than any other way to search for restaurants. Brands that want to survive in this competitive space need to focus on building their brand and presence on mobile. 
Mobile apps offer so much potential to give consumers what they want. Whether making ordering easier or giving customers special offers, branded mobile applications are indispensable in today's business world.
Branded apps also allow you to control how people see your message. You can use it for everything, from mobile payments to creating campaigns that connect you better with your audience.
2. Online Ordering
Online ordering is one of the most popular ways for customers to place orders, especially when they're in a rush or want to pick up food on their way home. It eliminates the stress of calling in an order, waiting for it to come, or getting frustrated when the order is incomplete. 
With online ordering, customers have instant access to your menu. They can search by categories or specific items and have them delivered directly to their door. 
Online ordering is convenient for the consumer but also helps businesses attract new customers. Increasing sales, lowering wait times, and streamlining operations are economical. The simple existence of online ordering gives you a more comprehensive marketing range.
The average order size is larger than in-store orders, which is good news for the business owner. Consumers spend more when ordering online, so the profit margin is higher. 
3. Enterprise Resource Planning
Enterprise resource planning (ERP) allows franchise owners to access data faster. It organizes, analyzes, and stores information, including sales, inventory, and customer data. Rather than looking at individual franchise sites, ERP considers the entire business. 
You can track sales and expenses from multiple locations when your business is on a system like this. It allows managers to examine data from all locations and make decisions from that perspective. Effective ERP implementation can also streamline your general marketing process.
4. Geofencing
Geofences are a virtual perimeter around a location that triggers a response when the GPS enters that zone. This technology lets marketers target customer segments based on where they are located. 
They can inform business owners when a customer enters or leaves their store. Restaurant apps can use geo-targeting to send personalized messages or notifications to consumers. For example, the app could notify consumers when an order is ready, or a specific food item is on sale.
For restaurant owners with brick-and-mortar locations, geo-fencing can help you connect with potential customers. The virtual fence lets you know when a customer is in the vicinity of your restaurant and allows them to receive a specific message.
5. Artificial Intelligence (AI) 
Artificial intelligence is a broad term, but it refers to machines being able to carry out tasks once done by humans. Many applications use AI, but one of the most promising is chatbots. 
Chatbots have rapidly emerged as a tool to improve customer service. They work by interacting with customers and answering questions. It reduces the number of tedious tasks that take up time. 
Restaurant chatbots are a great marketing tool. They enable you to reach people where they are, on their phones. It keeps you top of mind with your customers, so they can find you when they're ready to place an order.
6. Audience Targeting 
Video ads are the most effective type of content. They reach people more intimately than text or images. Digital platforms have evolved to allow users to target their audiences more effectively. Advertisers can narrow their audience based on location, age, and income level.
Audience targeting lets you narrow in on your ideal audience. You can design a campaign that targets large groups of people, such as everyone who lives in a specific zip code. Or, you can develop a strategy to specifically get in front of people who meet specific demographic markers.  
You can tailor advertisements to specific audiences, rather than showing the same ad to everyone, even if they don't fit the bill.  
Targeted ads let you increase the effectiveness of your marketing budget. They help you focus your resources on consumers more likely to buy.  
7. Social Media
Social media is a fantastic platform for sharing and consuming information. It's also a great way to market and build your brand. Platforms like Facebook, Twitter, and Instagram are great for engaging with your customers and making them feel connected to the brand.
One benefit of social media marketing is its ability to increase brand awareness. It allows you to interact with current and prospective customers while telling a story about your brand. 
Another huge benefit is the potential for user-generated content. User-generated content is when followers post photos, comments, reviews, and other types of content on social media channels.
It can help foster a positive culture for a restaurant. People post about their experiences and give others an idea of what to expect. It encourages more engagement. 
You need to focus on delivering value to gain traction on social media. It's not about selling a $15 meal. Instead, it's about providing something of worth. A free recipe, for example, is far more valuable than a coupon for a $15 salad. 
You need to share content that makes followers feel special. The way to do that is with social ads. Use them to show fans something they can't see anywhere else. 
The Bottom Line
Restaurant marketing efforts are constantly evolving. New technology gives you more tools and resources to connect with your target audience. The tried and true methods are still effective, but it's crucial to adopt the latest and most excellent tools at your disposal. 
The most successful campaigns implement new strategies alongside the old standbys. It allows you to create a well-rounded restaurant marketing strategy, which will undoubtedly lead to more success. 
Guest Post By :
Arleen Atienza