We're halfway through 2021. What a productive year it has been so far.
As you know, we made a 12 Months of Awesome promise this year that challenged us to create something new for our clients (and the world) every month. So far this year, we've innovated upon security with Cloudflare, PPC Protect, and Dragon in January. We launched Awesome Altruism in February. In March, it was Awesome Reviews. In April, we released Awesome Analytics. And last month, we unveiled our AweWP whitelabel brand for agency partners.
To close out the first half of the year, we're publicly acknowledging our commitment to the blockchain industry and our expansion into accepting cryptocurrencies for payments.
You'll find more information below.
We've Grown Into Blockchain Developers
Over the past several years, many members of our team have participated in the ongoing development of blockchain technologies. At this point, our collective team has assisted with over a hundred unique blockchain protocols and has continued to stay active in their respective blockchain communities.
Moving forward, our commitment to work even more on blockchain-related projects will only accelerate. We're pioneering a few of our own products, working on many new client projects, and continuing to engage with the overall community that started it all.
Since our goal is to make the internet more awesome, we firmly believe that the blockchain helps us get there quicker.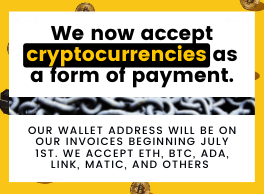 We Now Accept Bitcoin!
Despite the volatility of many of the most popular digital currencies, our bullish perspective on the industry has forced us into the growing trend of accepting crypto payments from customers.
Therefore, we will now be including our crypto wallet information on all invoices moving forward. To make a payment, you can simply share funds to our wallet (rather than write a check or swipe your credit card).
In addition to the above, if you're looking to accept cryptocurrencies for your business in the near future, please don't hesitate to reach out. We have many solutions for this and believe it will help with your customer sentiment. In other words, it's a decision that is bound to keep you relevant in the everchanging internet world.
Blockchain Education
In the fall, I'll be hosting a webinar through Brunswick College about the blockchain and Bitcoin. More information will be released soon, but if you're interested, please reach out and we'll get you signed up early.
Spoiler: We'll also be launching a blockchain course in the very near future. 
Stay kind. Stay loving. Stay awesome.